I have always learned (in trading) to "plan your work, then work your plan." If you listen to my daily webinars, I spend 3.5 hours a day talking strategy on how I would like things to shape up in the markets before I take action. Does that mean that all my plans come to fruition? No, not at all. However, if I have some sort of template or plan of what I am trying to do, it helps me forge my intraday and swing trading strategies in the currency market.
Today, I talked about my trading plan the next couple weeks for the USD index. I am hoping the market plays out this way and helps guide me in my FX trades. Funny thing is I don't even trade the DXY. I trade FX crosses like the EUR/USD, AUD/USD, USD/JPY, etc. But understanding the basic trajectory of the USD index can help shape my decisions in the crosses. By the way, the USD/JPY makes up about 13.6% of the USD index, however never is factored into my equation when trading USD pairs since the USD/JPY tends to be more sensitive to yields and risk trends than the USD index.
The DXY index broke higher following the FOMC minutes yesterday. This created a double bottom in the USD index, broke a "bearish wedge" (should have broke lower but instead broke higher) and looks to be on the way to testing range highs. However, the double bottom has a projected target above the recent trend highs. If we break higher, I am looking for a target of about 101.50 which is a 127% extension of the recent range: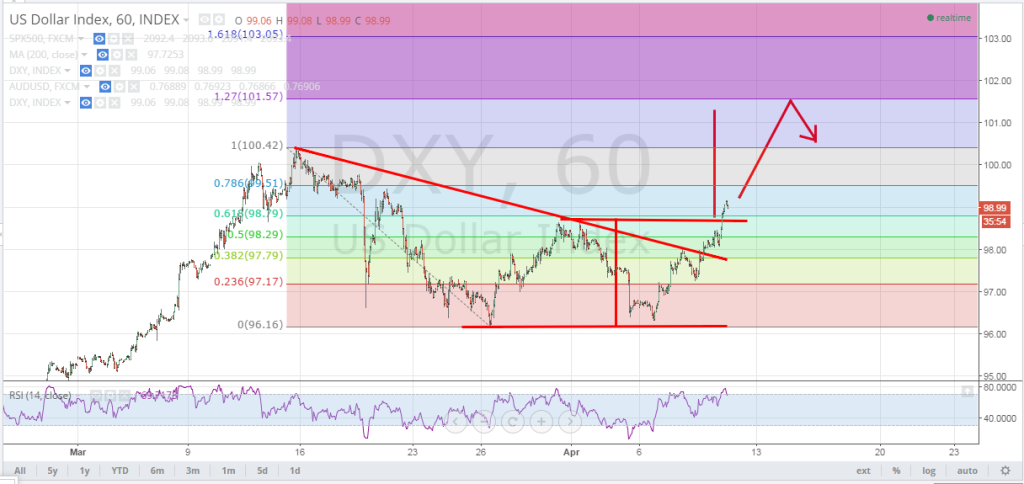 If this rally does happen, it is likely to be viewed as a squeeze as there have been so many traders trying to call a "top" in the USD as of late. That type of behavior is very common when you see very explosive and strong trend like the one in the USD index in recent months. Frankly (I have to admit) I agree with that thesis, however have had a difficult time trading it lately. So, I have been buying the USD (mostly) on dips as of late instead of trying to short the USD.
If the DXY does move higher as planned and makes a brief new high, the monthly 61.8 retracement level is at about 102.00. I have felt the last couple weeks that the 61.8% Fibonacci level at 102.00 has been "unfinished business" for the USD bulls anyway.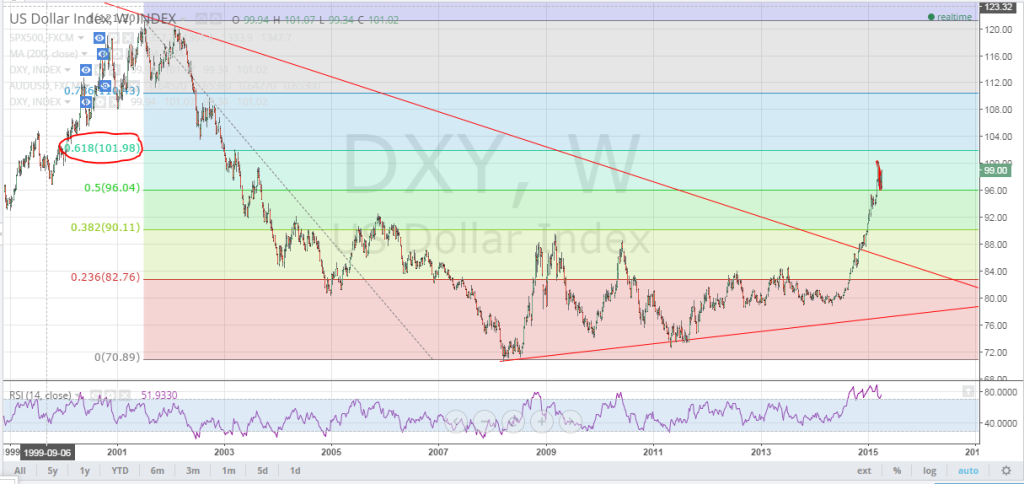 If we hit the 101.50-102.00 I would be looking for a longer term reversal (or bigger consolidation) of the US Dollar Index.
Blake Morrow
Chief Currency Strategist, Wizetrade