The AUD/USD has been in a relatively strong decline since mid 2013, and now we are approaching some critical "confluence" of major support. As you can see on this monthly chart, we are very close: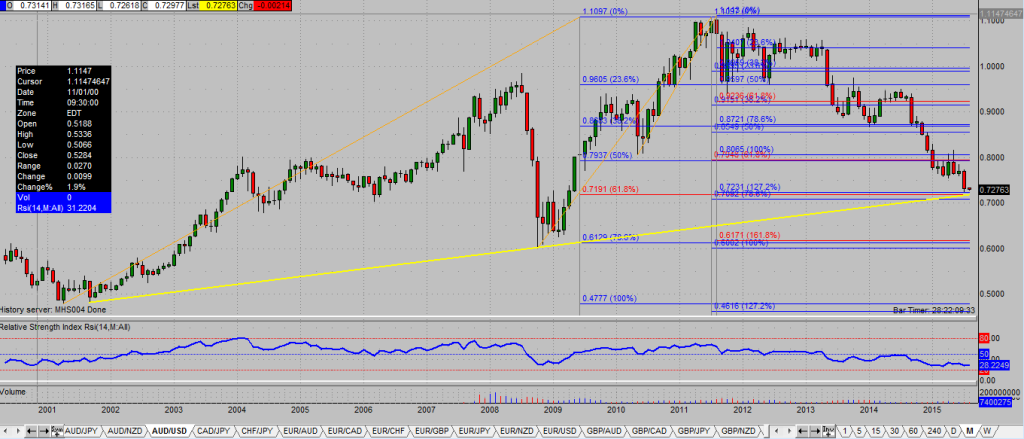 The lows in 2001 to the highs in 2011, we are at the 61.8% Fibonacci retracement near .7200. The lows post financial crisis in 2008 to the highs in 2011, we are near the 78.6% retracement near .7100. The 127% extension of the lows in 2010 to the highs in 2011 come in just below where we are currently at, near .7230. if you draw a trend line across all the lows that comes in near .7100. Normally, from a risk reward perspective, I would typically get long near here. The risk is manageable in relation to the upside reward for a bounce. However, I am hesitant. Here are some reasons why, compare the S&P to the AUD/USD: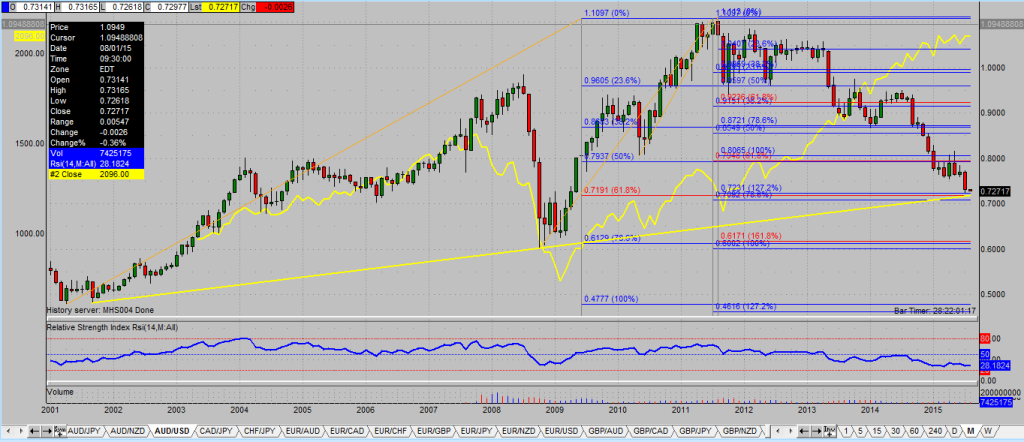 If you add the SPX futures (yellow) to the chart, you will notice until 2013, the AUD/USD and SPX had a very tight correlation. One would argue that because of the slowdown in China and the divergent central bank policies of the RBA and FOMC the two had diverged. The SPX has benefited from continuous loose monetary policies of the FOMC and other central banks in recent years. As you know, this may be coming to an end here in the US. I also believe the SPX is attempting a rounded top formation due to a tighter monetary policy in the coming months. If I am correct, what will the AUD/USD do? With the potential of the FOMC raising rates this year, and at best, the RBA on hold, the AUD/USD may continue lower, especially if US equities head that direction too.
In addition, take a look at the AUD/USD vs. Copper (Copper is the candle chart, AUD/USD is yellow line). Copper looks as if it wants to test the 2.00 level.
This is a big week for the USD and for the AUD. Tonight we have retail sales and the RBA decision (RBA is expected to leave rates unchanged), Wednesday evening is the Australian jobs report. On Friday we are expecting our own employment report in the US, and most are expecting a steady showing of more than 200K jobs again. I suspect after this week we may have a better idea if this is the level we want to be long the AUD/USD, or perhaps we start a new leg lower?
Blake Morrow
Chief Currency Strategist, Wizetrade
Disclaimer: I have no position in the AUD/USD, but may towards the end of the week.